Furnishing your dining area should be en enjoyable task, but sometimes people feel constrained by their budget. Luckily at Furniture.com, you don't have to be!
The focus of every dining room, whether casual or formal, should be the dining table and chairs. Once you have this central dining room furniture, you can add in dining room storage. Don't be afraid to think outside the box to get the look you want. For example, a sofa table might work great with your dining room's decor, especially if you don't need the storage a sideboard would provide.
Here are 5 of our fabulous 5 piece dinettes, all costing under $500. Any one of them would be a great basis for creating the dining room you desire:
If you want to add fashion-forward decor to your plate, then our Alcove Beige dining room furniture collection is for you! With its combination of wood, metal and glass and a cool crossover base, the eye-catching round table shows that you're style. The Parsons chairs, enhanced by versatile beige microfiber, create a comfortable setting, and a merlot wood finish completes the strikingly modern look. Five piece package includes table and four chairs. Available in additional colors, too. Buy now for just $499!
Casa Moda 5 Pc. Dinette
The design of our Casa Moda dining room collection sits right at the cutting edge of style and home design. An exquisite chocolate finish throughout on natural meranti veneers sets the tone for this minimalist dining room set. Bands of faux bamboo detailing distinguish the set, infusing each piece with visual interest. Microfiber fabric and slightly angled back feet add a final touch to this classy yet casual set. Five piece package includes table and four side chairs. Buy now for just $299!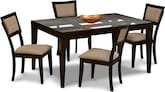 Chicago 5 Pc. Dinette
Our Chicago dining room furniture collection features clean lines and a modern sensibility. A beveled glass tabletop rests on an open grid support frame for an airy, light look, and gently tapered legs add a graceful touch. The side chairs feature padded, upholstered seat and back cushions for extra comfort. The overall look is contemporary and inviting, perfect both for family meals and entertaining guests. Five piece package includes table and four side chairs. This set is also available counter-height. Buy now for just $499!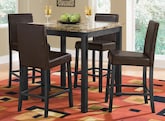 Keystone II 5 Pc. Counter-Height 5 Pc. Dinette
Get taken away by the casual yet compelling beauty of our Keystone II counter-height collection! It's as ready to find its home in an open-concept kitchen as it is in a dining nook. The tabletop's genuine stone veneers pair wonderfully with the espresso-finished wood, creating an arresting style that catches the eye. Parsons-style stools provide the practicality of full back support as well as easy-clean faux leather in a deep brown finish. Five piece package includes counter-height table and four counter-height stools. Also available not as counter-height. Buy now for just $229!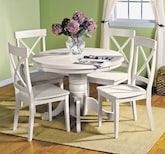 Plantation Cove White 5 Pc. Dinette
Our Plantation Cove White dining room furniture collection has an intimate and cozy feel, making it the perfect place to warm up with coffee in the morning or to gather the family at dinner time. Its casual yet sophisticated approach to dining is evident in the stylish chairs with an X-back design and a bright white finish. The classic pedestal table has a turned and faceted center support with shapely, contoured legs. A slanted edge on the tabletop adds a hint of contemporary appeal. Five piece package includes table and four side chairs. Also available in black. Buy now for just $399!
Browse all dining room furniture at Furniture.com.
Category: Dining Room Furniture