We are always adding new and exciting collections to our existing inventory of living room, bedroom and dining room furniture, mattresses and more. Check out our top 3 picks of this week's newest arrivals, and let us know if you get inspired -- we sure did!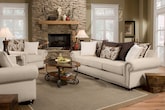 The Lacey Living Room Collection
White furniture can brighten the entire look of a room! Play up your style with our gorgeous Lacey collection! This traditional living room, including sofa, loveseat and chair, is stunning with its beautiful ivory finish! The wide roll arms and seat cushions filled with high-density foam provide remarkable comfort. Plus, when you add color to a white room design it really stands out. For example, the animal inspired patterned pillows give this collection a little edge! This set gives you the freedom to experiment with different shades and patterns to produce a chic design that's right for you!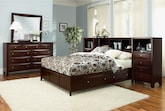 The Clarion Bedroom Collection
These days, we all need extra storage to stay organized! Bedroom furniture often comes with extra space that can help keep your room clean and clutter-free. The Clarion collection allows for a large amount of storage but still maintains its sleek design. The collection's centerpiece s the bed with its bookcase-style headboard and four generous underbed drawers. Complete the elegant look with the dresser and nightstand, both in a luxurious cherry finish and contrasting chrome hardware. Sleep in the comfort and in style you deserve!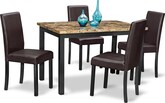 The Keystone Dining Room Collection
Looking for the perfect dining room set, large enough to entertain, small enough to fit in any dining room, and stylish enough to impress your friends? Our Keystone dining collection fits the bill! The table's genuine stone veneers pair wonderfully with the espresso-finished wood, creating an arresting style that catches the eye. The comfortable Parsons-style chairs are upholstered in a rugged, easy-care faux leather that's scene-stealing in its deep brown finish. This simple yet elegant design is perfect for a romantic dinner for two or a gathering. Set the scene now and start planning your next dinner party!
Browse all the newest furniture arrivals at Furniture.com.
Categories: Bedroom Furniture, Dining Room Furniture, Living Room