We are always adding new and exciting collections to our existing inventory of living room, bedroom and dining room furniture, mattresses and more. Check out our top 3 picks of this week's newest arrivals, and let us know if you get inspired -- we sure did!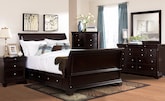 The Lakeshore Bedroom Collection
Holiday season is here, and before you know it, your in-laws will be on your front steps ready to critique everything about your home, your cooking and how you are raising their grandkids! This year make them speechless with a guest bedroom stylish enough for a design magazine! The Lakeshore collection exudes sophisticated elegance -- the dark merlot wood tone and encircled silver-finished hardware create a striking visual, while the sleigh-styled bed, crown moulding and decorative pilasters echo the timeless elements of treasured antiques. Plus, the underbed drawers offer useful storage so your guest will have plenty of space for their belongings! So relax, your holidays just got easier!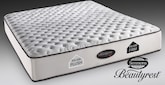 The Lorena Lane Dual Pillowtop Collection
Of course no guest room is complete without a good mattress! Don't let your guests toss and turn all night trying to get comfortable. Invest in a quality new mattress! Top on our list is from a brand you know and trust, the Simmons Beautyrest Lorena Lane Dual Pilllowtop collection! This collection takes pocketed coil springs, wraps them in luxurious fabric and nestles them together for a cozy, supportive feel. Total Surround BeautyEdge® Foam Encasement creates reliable edge-to-edge sleeping comfort on both the plush side and the firm side. Your guests will get a better night's sleep on this mattress than they do in their own homes!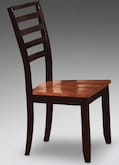 The Lauren Dining Room Chair
You are ready and prepared to host your famous holiday dinner with a beautiful centerpiece for the dining room table, a china cabinet elegantly displaying your wares, and a sideboard to help hold food and your vast wine collection. But what about extra seating? Don't make your guests sit on a cold metal folding chair! Choose one from the many dining room chairs we have at great prices! The Lauren II sidechair is a perfect addition to any dining room. It is simple and straightforward, but with all the style you deserve. The two-tone natural and cherry finish combines beautifully with Acacia veneers for easygoing appeal. This chair will blend perfectly with any dining room furniture set and let your guests know that you care about their comfort!
Browse all the newest furniture arrivals at Furniture.com.
Categories: Bedroom Furniture, Mattresses, Dining Room Furniture