We are always adding new and exciting collections to our existing inventory of living room, bedroom and dining room furniture, mattresses and more. Check out our top 3 picks of this week's newest arrivals, and let us know if you get inspired -- we sure did!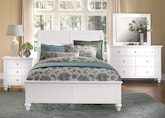 The Savannah White Bedroom Collection
Many times when we think of children's furniture, we don't think of style. But our Savannah White II bedroom embraces all the freshness of youth, while keeping traditional design sensibilities in mind. The bed's sleigh-like headboard stands tall, nicely contrasting the footboard's modest stance. A storage trundle can convert from storage drawers to a sleeping trundle, perfect for sleepovers! The dresser, nightstand and chest have enduringly simple charm with flat-front drawers, turned feet, and chrome knobs. Your child will love showing off this bedroom set!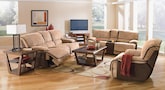 The Laguna Living Room Collection
Looking for the perfect living room for entertaining? The Laguna collection fits the bill! This living room furniture set is stunning in camel-colored fabric and deep brown leather-like trim and sides. Both the sofa and loveseat feature two chaise-style reclining seats, which means there's no gap between the seat and footrest for full body relaxation. The middle console offers convenient storage space and cupholders. Who wouldn't want to snuggle into the velvety softness of the wide-wale corduroy fabric and watch a good movie?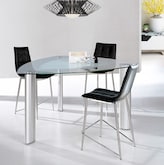 The Retro Casual Dining Room Collection
Are you ready to add a little fun to your drab apartment? Our Retro dinette has the hip style of the past that still resonates today. The table showcases partially frosted glass, anchored by funky oval table legs. The chairs are fully upholstered with tufted black or white faux leather, with a slender architectural design. All of these design elements come together for a look that's timeless and fun. This collection will add a punch of style to any small home, apartment or dorm room!
Browse all the newest furniture arrivals at Furniture.com.
Categories: Bedroom Furniture, Dining Room Furniture, Kids Furniture, Living Room Furniture